08
Jun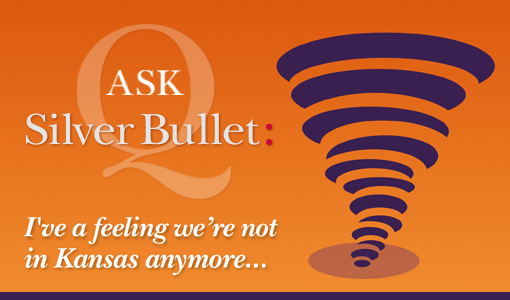 With so many marketing platforms now competing for our limited resources, how on earth do we choose where to spend?
Ask Silver Bullet: June 2016


It sometimes seems like a minefield, doesn't it? Each media platform, whether this be broadcast, Internet, external or traditional printed media, direct mail, design and print, exhibitions, tele-marketing, public relations, sponsorship or the host of new technical terms the marketing profession has invented for itself claims to be almost the Holy Grail, achieving the maximum Return on Investment (RoI) from your budget - they can't all be right!
Successful marketing isn't simply a result of how much you spend but rather a result of both how much and where you spend. The latest IAB (Internet Advertising Bureau) Report of 14 April, revealed that UK advertisers spent a record £8.61bn on digital advertising last year with ad spend on mobile devices driving the majority of this spend. Currently, all the statistics are showing that digital marking is delivering a better RoI than other techniques or platforms but, in truth, this might also be because traditional marketing is harder to measure, not that it's less effective.
The essential elements to consider are profiling your customers or clients so that you know their demographic, location and purchasing habits and understand their road to purchase so that you know what keeps them on that road to spending with you and, conversely, what will take them off the same road and divert them to your competitors or not spending at all.
Once you understand these, you can then move onto your choice of marketing platforms - there's a lot of highly generalised rules of thumb to choose from here - PR is generally accepted to be one of the most cost-effective tools in a marketer's armoury, whilst digital media platforms, especially social media, is highly effective in reaching a younger audience. TV advertising is in a state of turmoil with multiple channels and younger audiences completely ignoring schedules and watching on demand. Radio and outdoor media remain consistently effective with direct mail useful for certain demographic groups but surpassed by direct email for others. The list could go on…
It is at this point you may consider seeking some professional advice from an agency. They will be able to guide you through your options of both choice and quantity. The best campaigns are inevitably integrated, mixing different platforms to deliver high quality and the required consistent content - the messages and branding in your PR, brochures, social media, printed and digital adverts, exhibitions and events, for example, need to be consistent and accurate.
Different media will always promote themselves as the best platform to market your products and services whereas a media neutral agency will not only be able to help you choose the media best suited for your particular products or services, but will also be able to purchase it on your behalf, usually achieving better value through their experience than you could do on your own. Indeed, there are specific media buying agencies who perform only this function, just as there are specific PR, digital, event management, design and advertising agencies but these may not be media neutral and will push their own specialisation just as one particular media channel would do.
So, my advice would be to go with an integrated agency that offers a full range of services and can show a proven track record of expertise with clients, preferably whom you know. Of course, you can always do it in-house if you feel confident in your marketing expertise but sometimes some external assistance in specialist areas isn't a bad idea…
Do you need to some assistance with your marketing? Do you need to review your strategy or do you have another marketing question we can help with? Talk to us. Email your questions anonymously to us today hello@silverbulletmarketing.co.uk or Tweet us (not so anonymously) @SilverBulletPR and use the hash tag #AskSB