17
Aug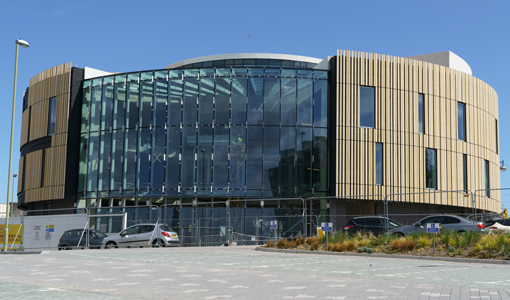 The Word Shines Out
On August 15, South Tyneside Council and development partner, Muse Developments, took possession of The Word, the National Centre for the Written Word, from contractors, Bowmer & Kirkland as the first phase of the ambitious £100m 365 Regeneration of South Shields reached partial completion.
The next day, the Council announced that the facility would open on October 22 with a fabulous exhibition on Sir Ridley Scott, one of the town's more famous sons, featuring props and scripts from several of his films such as Alien, Blade Runner, Gladiator and The Martian and earlier adverts (the Hovis one was actually shot in Shaftesbury, Dorset). The exhibits will include a spectacular 7ft high Alien, specially commissioned by the Council.
Beyond the Sir Ridley Scott exhibition, the three storey, circular cultural centre incorporates a library and digitial media space, boasting an impressive range of facilities including exhibition space, a computer gaming area, a FabLab with 3D printers and vinyl and laser cutters, digitised archives, meeting rooms, children's immersive storytelling area, OpenZone IT suite, café and a rooftop restaurant and terrace providing stunning views over the river.
The facility will be fantastic news for the South Tyneside area and the vision of both the Council and its regeneration specialist partner, Muse Developments, should be applauded not only for the Word but also for the fact that this is just the first phase of an incredible plan to regenerate South Shields Town Centre.
The Word will be a much welcome addition to the South Tyneside and NE regions whilst the next phases of the regeneration plan will hopefully succeed in breathing new life into this great town.